Arbitration & Alternative Dispute Resolution at the IMLC 2012
The International Malaysia Law Conference on the second and third day brings you diverse sessions from esteemed speakers on arbitration and alternative dispute resolution.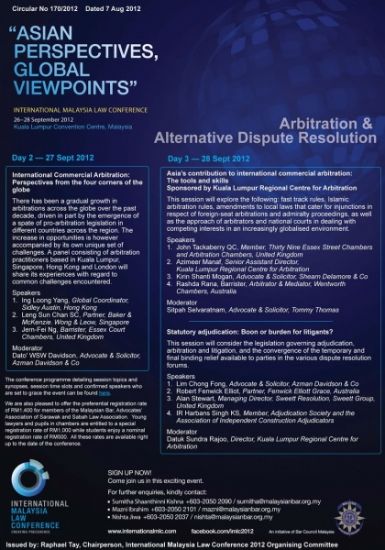 To register, please visit the main website.
Tags: IMLC 2012, International Malaysia Law Conference
The International Malaysian Law Conference organizers want you to visit their website to register for the event with attractive packages. For future partners, they have interesting sponsorship and advertising packages for your consideration. Head over to http://internationalmlc.com/ for more!
Posted on 21 August 2012. You can follow any responses to this entry through the RSS 2.0.
Read more articles posted by IMLC.