UndiMsia! To Reflect, Reminisce, Inspire & Uplift Malaysia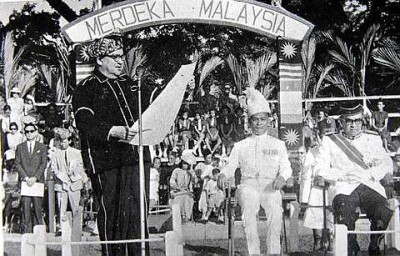 Let us make 16 September 2011 historic. A start of something new. A movement that will make a difference. Moving Malaysians towards OUR common Malaysia. Effecting more progressive and more participatory tenets of our democracy. Making a better country out of Malaysia in accordance with the original intent of Malaya that was to be:
… for ever a sovereign democratic and independent State founded upon the principles of liberty and justice and ever seeking the welfare and happiness of its people and the maintenance of a just peace among all nations.
Actually doing something about our own lives and for the lives of our fellow Malaysians in a non-partisan way, fiercely, and being proud of doing it for ourselves and our future generations. In a massive way.
Watch his famous '57 Independence Proclamation, again. Recall Tunku's speech calling for unity – to work together – and setting aside our differences (even as he was stepping down in 1970). Hear his voice and listen to his words play in our heads.
Remind ourselves about what we wanted for Sabah and Sarawak per Tun Razak Hussein on 14 December 1963:
Malaysia sebagai sebuah negara percantuman di antara Tanah Melayu, Singapura, Sabah dan Sarawak telah selamat dilahirkan pada 16hb September, 1963. Malaysia telah ditubuhkan dengan tujuan hendak melepaskan Negara-negara Singapura, Sabah dan Sarawak daripada genggaman penjajahan supaya Negara-negara itu dapat menjadi merdeka. Penubuhan Malaysia ini dijalankan menurut hasrat dan kehendak-kehendak rakyat Singapura, Sabah dan Sarawak untuk bersama-sama menikmati kebahagiaan, kesejahteraan, kemerdekaan dan demokrasi seperti yang sedang dirasai oleh saudara-saudara mereka di Persekutuan Tanah Melayu semenjak Tanah Melayu mendapat kemerdekaannya tujuh tahun yang lalu.

Rakyat Malaysia tidak mengerti apakah sebabnya penubuhan Malaysia ini telah ditentang dengan hebatnya oleh Indonesia sehingga Indonesia telah melancarkan Konfrontasi terhadap Malaysia dalam lapangan politik, ekonomi dan military. Kita tidak faham apakah sebab-sebabnya yang sebenar yang telah mendorong Indonesia menunjukkan sikap permusuhan dan rnengambil tindakan yang begitu khianat terhadap Malaysia. Hampir semua negara, negara dunia ini termasuklah Negara-negara Komunis telah mengalu-alukan kelahiran Malaysia, kerana dunia faham bahawa Negara Malaysia telah ditubuhkan menurut kehendak dan hasrat rakyat dan menurut dasar antara bangsa.

Malaysia sungguh suka hendak duduk dalam keadaan aman, damai dan berbaik-baik dengan semua negeri di dunia ini, terutama sekali negeri-negeri yang berjiran dengannya. Rakyat Malaysia mensifatkan rakyat Indonesia sebagai saudara-saudara mereka sendiri kerana rakyat kedua-dua negeri ini adalah mempnyai satu asal, satu bahasa dan satu kebudayaan.

…

Akan tetapi apa yang sebenarnya ialah Persekutuan Tanah Melayu yang telah mencapai kemerdekaan selama tujuh tahun itu telah menunjukkan kepada dunia bahawa negara ini adalah berjalan dengan majunya dan dapat menjaga keselamatan dan ketenteraman serta berhubung baik di antara penduduk-penduduknya daripada berbagai-bagai bangsa dan ugama. Dengan sebab Tanah Melayu berasa bertanggungjawab bagi memperjuangkan nasib saudara-saudaranya di Singapura, Sabah dan Sarawak, Tanah Melayu telah menganjurkan penubuhan Malaysia supaya rakyat di negeri-negeri itu dapat dilepaskan daripada tekanan dan genggaman penjajahan British. Dengan terbentuknya Malaysia dapatlah dihapuskan penjajahan di Tenggara Asia ini.

…

Malaysia adalah ditadbirkan dengan cara demokrasi dan rakyat mempunyai kebebasan yang penuh. Di Malaysia rakyat memilih Ke(r)ajaannya sendiri dan kerana itu Kerajaan Malaysia sentiasa memikirkan kepentingan rakyat dan sentiasa menjaga kesejahteraan dan kemakmuran rakyat. Kerajaan Pusat Malaysia adalah mengutamakan Rancangan Pembangunan Negara, terutama sekali Rancangan-rancangan Pembangunan Luar Bandar, supaya dapat memberi rakyat di seluruh Malaysia baik di bandar-bandar mahupun di kampung-kampung perubahan-perubahan nasib dan kebahagiaan hidup. Dalam masa yang singkat, iaitu tiga tahun semenjak Rancangan Pembangunan Luar Bandar dilancarkan, Kerajaan Malaysia telah berjaya membuka tanah-tanah baharu seluas 400,000 ekar dan beribu-ribu orang famili yang dulunya tidak mempunyai pekerjaan telah diberi pekerjaan dan tempat kediaman yang sempurna dan teratur. Jalan-jalan raya yang baharu telah dibina di kampung-kampung, beratus sekolah-sekolah rendah, menengah dan tinggi, klinik-klinik, balai-balai raya, masjid-masjid dan madrasah-madrasah dan berbagai-bagai kemudahan lagi telah dapat disampaikan kepada rakyat untuk kebaikan dan kesenangan mereka itu. Rakyat di Sabah dan Sarawak juga akan dapat menikmati kemudahan-kemudahan ini tidak berapa lama lagi apabila Rancangan Pembangunan Lima Tahun di wilayah-wilayah itu yang baharu sahaja dipersetujui dapat dijalankan.
Now, what would you pledge to do on the 16th?
Move with us on the 16th: [email protected]
Let's do it!