#Infographic: Do you feel 50% richer?
Prime Minister Dato' Sri Najib Razak claims that Malaysians are 50% richer since 2009. Are you feeling it? We at REFSA aren't. Our latest infographic explains why.
[Click here for the enlarged version]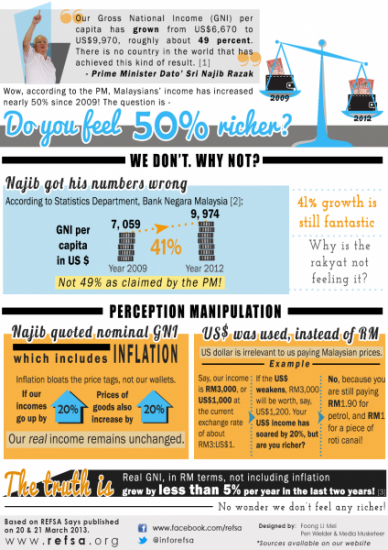 Click here for more REFSA infographics
Visit us at http://refsa.org | Like us on our Facebook page | Follow our tweets @inforefsa
Tags: Gross National Income, infographic, Najib Razak, refsa
REFSA is an independent, not-for-profit research institute providing relevant and reliable information on social, economic and political issues affecting Malaysians with the aim of promoting open and constructive discussions that result in effective policies to address those issues. Visit us at www.refsa.org
Posted on 5 April 2013. You can follow any responses to this entry through the RSS 2.0.
Read more articles posted by Research for Social Advancement (REFSA).